Campus Life
Things you need to know !
Add color to your campus life while staying at Faculty of Science, Mahidol University ! Here are some information you need :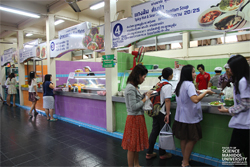 Dig In !
There is a cafeteria located on the ground floor of the Mathematics Building where you can choose many delicious dished with reasonable price !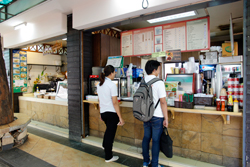 Cooked to order shop and coffee shop located around Lecture Building.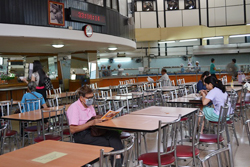 There are other cafeteria nearby located at Ramathibodi Hospital,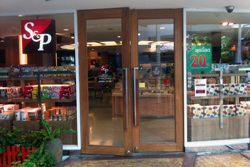 and if you want the western delicacies you can find them at Puff & Pie Kiosk, S&P and Deli house which are in the hospital area also. And don't miss the open market every Friday at Ramathibodi Hospital where you can shop at a bargain price.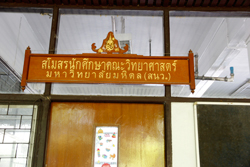 Meet new friends !
Join engaging activities while meeting interesting people at the Student Union on the first floor of Research (R) Building.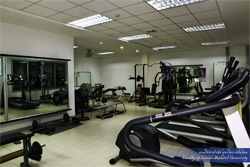 Stay fit and healthy !
The fitness room is on the second floor of the cafeteria. It is an air-conditioned room equip with many kinds of exercising machines. A fitness instructor is there to assist you. Open from Monday to Friday between 16.00-19.00 pm. The outdoor exercise tools are set up in the garden beside the Bio-Geo Path.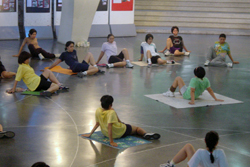 Or you may want to join the aerobic classes on Monday, Wednesday and Friday from 17.00-18.00 at the ground floor of the Lecture (L) Building (commonly known as the Round Building), and learn Chinese Boxing (Tao tae Shin See) on every Tuesday & Friday at noon beside the Round Building, and on Thursday evening at ground floor of the Round building.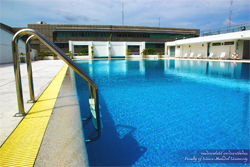 Stang Mongkolsuk building, a new complex building open for a complete recreation and sport surrounding ! Not only there will be tennis, badminton and basketball courts but also a swimming pool !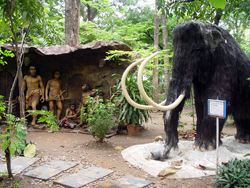 Relax and have fun !
Feel the fresh atmosphere at the big garden surrounded with huge trees. You can also enjoy the calm and peaceful serenity at the Hornbill habitat garden or the one close to the Bio-Geo Path.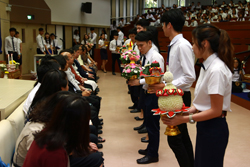 Involve yourself !
We encourage you to join the University's celebrations and experience Thai culture and tradition: Songran festival in April (former Thai New Year); Teacher's Day in June; OPEN HOUSE in August and a lot more !
You may want to participate in scpecial lecture/seminar/workshop conducted every week! Please check the announcement board.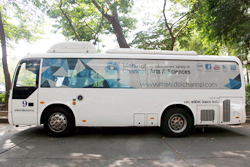 Go out !
There are shuttle buses available to take you back and forth from the Faculty of Science at Phayathai Campus to Siriraj Hospital and to Salaya Campus all day! The bus stop is in front of Chemistry Building.