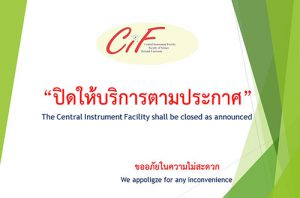 23 March 2020
Announcement of Central Instrument Facility (CIF), Faculty of Science, Mahidol University.
"The Central Instrument Facility shall be closed as announced for Phya Thai campus to prevent the outbreak of the COVID-19″
The Central Instrument Facility, Faculty of Science hereby declare the following to be in effect as from 23 March B.E. 2563 (2020) until further announcement.
Announcement of Faculty of Science, MU
---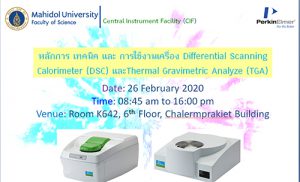 26 February 2020
"Principle, Technique and Manual of Differential Scanning Calorimeter (DSC) and Thermal Gravimetric Analyze (TGA)" by PerkinElmer Co., Ltd.
Time: 08:45 am – 04:00 pm at Room K642 (Lect) and Room K652 (Lab)
---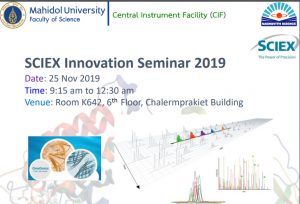 25 November 2019

"SCIEX Innovation Seminar 2019" by Saengvith Science Co., Ltd.
Time: 09:15 -12:30 am at Room K642 (Lect)
---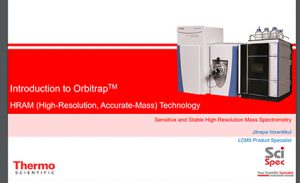 19 November 2019

"Orbitrap™ HRAM Technology" by Science Tech Co., Ltd.

Time: 09:30 -12:00 am at Room K642 (Lect)
---